CloudSpace range of solutions from DDos Mitigation, disaster recovery, various managed services to Hyper-V Server.
Achieving maximum system uptime and operational continuity.

Businesses of all sizes should invest in robust disaster recovery options. Smaller businesses that lack cash and expertise can take advantage of this feature.
Disaster recovery (DR) is a cumulative strategy that includes a combination of people, processes, policies and technologies towards achieving maximum system uptime and operational continuity in the event of a environmental or system failure. It focuses on restoring the IT systems critical to supporting business functions. Whether you're a small business or a multi-million dollar enterprise your IT systems is vital towards to continued success of your business. We can help you with the right strategy at the right price to ensure that your IT systems are always up.
Whether you need help backing up important databases or performing complete replication of your environment to a secondary site, we have the expertise, technologies, and services that your plan needs.
By eliminating single points of failures in your current environtment you improve resiliency and increase uptime. Redundancy enables your system to survive several failures before needing recovery. Redundacy also helps you quickly recover from a complete failure.
While DR solutions can seem expensive with the advent of new and improved technologies its possible to put together a solution that meets your requirements without having to drain your bank account. Talk to us today so that we may help you protect your investments and help you achieve the business success that you want.
We actively monitor your network for attacks from external and internal sources. Our services aims to provides comprehensive protection from DDoS attacks by detecting and isolating malicious traffic. Our monitoring service will monitor for unusual traffic patterns and take proactive measures to prevent harm to your network.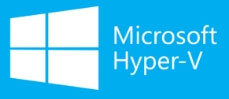 Microsoft® Hyper-V® Server
The most efficient virtualization, backed by leading industry standards.
Managed Anti-Virus / Anti-SPAM
We partner with the industry leaders Symantec and Fortinet to deliver a mix of hardware and software based Anti-Virus/Anti-Spam Managed Security services. Our suite of solutions provides the following services:-

Anti-Spam and Anti-Virus that detects and cleans your e-mail at the gateway and user device.

User client (desktops and laptops) Anti-Spam, Anti-Malware and Anti-Virus to provide comprehensive protection against all types of malware, internet-worms, trojans & computer viruses. It blocks inappropriate content coming in and going out from your network.

Server Anti-Virus to prevent viruses from crippling your infrastructure and providing an additional layer of security to protect data vital to your business.
We provide hardware and software based managed Firewalls to provide you end to end protection from security threats. Using the best of breed Firewall solutions coupled With our expertise and 24/7/365 support, we will design, configure and manage your security infrastructure while constantly monitoring for threats.
If all you need is a few servers to host a website or application but not worry about the management. Then this is the service for you. We offer custom solutions to meet your requirements and budget.
Your data is most probably the most valuable asset to your business. We provide onsite and offsite backup solutions to protect your data from accidental deletion, corruption and malicious acts so that your data is always available to you.
Managed Intrusion Prevention
Our Managed Intrusion Detection and Prevention service provides 24/7/365 real-time monitoring, detection, analysis and response to internal and external network security threats. Commonly delivered as part of our Managed Firewall service we offer the 24x7x365 monitoring, risk assessment and response to effectively and proactively protect your business.
We provide managed Internet services ranging from 1Mbps to 100Mbps depending on your requirements. We offer bandwidth services from the major Telco operators and combine it with our suite of managed services to provide you a worry free Internet experience. Our service is highly available through the use of redundant links and backed by a comprehensive Service Level Guarantee.
Our Managed Security services is designed to minimizes your organization's exposure to threats that may compromise the security of your operation and data. Our suite of services will help you identify, assess and manage risks to your infrastructure and applications. We provide 24/7/365 security monitoring, management and response.
Fully Managed IT Services
We are experience in managing your I.T environment, backed by years of experience by our team who managed Data centres in Australia, particularly in Financial Sector and Telco Hardware management in Malaysia.
We reduce your risk and provide comprehensive service to your IT operations. With our 24x7x365 monitoring and remediation for your I.T systems. We strive in providing support in all levels of your corporate needs in the fast-paced, ever changing business world.
This is our most comprehensive service offer which covers everything from acquisition to design, management, maintenance and active monitoring. We not only become your IT partner but we work with you to be apart of your business. We do the heavy lifting so that you will never have to worry about your IT requirements. Whatever it maybe we will cover it and grow with you.